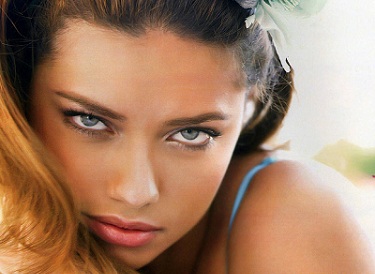 The Basics
Name:
Dulce Lara-Carriedo
Age:
29
Element:
Water
Classification:
Citizen
Birth Kingdom:
Unda
Home Kingdom:
Unda, though she's out at sea most of the time.
Appearance
Playby:
Adriana Lima
Personality
Personality:
You only live once. That is the number one rule in Dulce's Book of Life. All she does, she'll do impulsively, because she felt like it. She won't hold back, ever. She's bound by no rules and lives for the thrill of adventure, that is why becoming a pirate was the only possible option for her. Turns out it suited her like a glove. Breaking the rules, raiding then swimming in piles of gold, indulging in every sinful pleasure...she could not think of a better life.
She is haughty and expects complete obedience from her crew. If you aren't in her crew, she'll make you obey either way. If you don't, well, you make her Black List. She's a bad enemy to have, because she has a good memory and a tendency to be theatrical in her revenge. In fact, she likes adding a dramatic touch to everything in life.
While she's not completely poisoned and evil on the inside, she is the captain of a pirate crew and that involves being bad. In that sense, she's a bit insensitive; she'll try not to put a face on the people she robs/beats/kills. In front of an enemy, she becomes a demon. In front of a friend or person she has nothing against – and is not about to perform a crime against – she becomes the other Dulce.
The other Dulce is playfully naughty, loud and carefree. She'll enjoy partying, on the beach, in town or on deck, all night or lazing around in the sun all day. She's more than often in this mood. She is incredibly prideful and will always boast about one accomplishment or another. She fancies herself the Empress of the seas, the Supreme Conqueror. Seriously, biggest ego ever.
If you're a member of her crew, then it's a bit different. She'll still be the same, but she'll be more respectful towards you and give you a decent amount of attention. Basically, she's fair and, in fact, pleasant enough with her crew mates.
Finally, the most important aspect of her personality is this: while one may feel sadness, she'll feel despair, while one may feel anger, she'll feel rage. She will feel ecstasy rather than happiness. It may have something to do with being theatrical, but she feels intensely, sometimes too much. All her emotions are felt and expressed ten-fold.
Likes:


Her two sisters. They are very much alike, the three of them. They are the only people who give Dulce a sense of belonging on the ground, so she cares for them dearly.

Alcohol. Sometimes, being in piracy takes its toll on Dulce's mood sometimes. Alcohol is always there to cheer her up. Mostly she just likes letting go of everything and just going wild with the rest of her crew.

Indulging herself in all fine delicacies and guilty pleasures : she believes in having no inhibitions and not denying herself anything she wants. After all, you've only got one life to live.

Sailing; she likes the feeling of freedom it brings.

Money; wouldn't be able to indulge without it, now!

Her crew; although they complain a lot, they're loyal and as a captain she wouldn't have gotten far without them.

Music: She's drawn to music, mostly latino beats. It's another way to feel free to her.

Power; with an ego as big as hers, it's to be expected.

Art forms (paintings, sculptures, plays, poetry, etc), she has a keen passion for them. Partly because she likes to surround herself in valuables.

Dislikes:


Up-tight people; they are her complete opposite and their presence alone will aggravate her. Especially if they start being judgmental.

Any form of authority; they're always getting in the way of her plans, of course!

People rushing her/second-guessing her; she likes things done her way and she's very stubborn about it.

Finding something she can't do; whenever that happens, her pride is greatly wounded. Since she has a huge ego, it hurts.

Aging: She really hates the thought of getting older. She can't imagine being an old lady, losing her looks and her fitness. Even the fact that she's turning 30 in the next year drives her insane.

Elemental Strengths
Tides: She's practiced it a lot, focusing mainly on that so she could use it to change the course of her ship.

Elemental Weaknesses
Compact water: Making water balls and such. She hasn't had much practice at it and it's not really her type. She's more of a flowy, wavy person.

Background
Family:
Mother – Fiorella Lara-Valencia, Water Consular.
Father – Antonio Fernandez-Carriedo, Water Master.
Sister – Nina Lara-Carriedo, Water Citizen
Sister – Mercedez Lara-Carriedo, Water Citizen
History:
Dulce had always been a wild kid. From the age where she could walk, she was already stepping out of boundaries. From when she could talk, she was already swearing like a sailor. At five, she had her own pack of kids in the harbor town where her family lived, with whom she played pirates. Really, they were just a bunch of hoodlums running wild. She often caused troubles for her parents, who had to deal with angry citizens complaining about a window she'd broken or a piece of furniture she'd taken.
They didn't have time to talk sense into her: her father worked as a mate on a trade ship and was seldom at home. Her mother had to take care of her two younger daughters, one of them five years Dulce's junior, the other seven. No one ever really tried disciplining the turbulent girl. As long as she didn't drag her sisters into her shenanigans, Fiorella didn't care.
Despite everything, Dulce was on good terms with her family. She especially fawned over her little sisters, bringing them items she'd stolen as gifts. They looked up to her, and often begged her to let them play alongside her. Dulce obliged, not one to refuse her siblings, or anyone who wanted to join her. When she found out, their mother put a stop to it, grounding Dulce and forbidding her from meeting with her trouble-making friends again.
Evidently, the now-fifteen years old girl did not take the punishment well. She discovered her hatred for authority and rules and her acting out worsened. She continued meeting with her gang, only the game gradually turned into something more serious. Instead of petty thefts, like a worthless pot of plants, she was now stealing money or fine goods from the people of her town. She kept her mother unawares, only spending the money on herself and doing so quite fast.
It happened when her father was gone on a month-long expedition. She was nearing eighteen and had grown tired of her old tricks. Or rather, she'd grown jaded of her town. The citizens were all middle-low to low-claw and in robbing them she didn't make as much money as she wanted. Nor did she get the thrill from stealing as much as she did before. The only thing that awaited her along the road was either jail in the little port town, or her parents finally straightening her out and turning her into a housewife.
Leaving a note for her mother and sisters, she set sail aboard a ship as a stow-away. At the time, she planned on coming back. She was just taking a little trip, to change scenery for a bit. Only, the cargo ship she'd been on was attacked by pirates. She remained in her hiding spot even as the first cannonball hit the ship and it shook. She was in the cargo hold and she knew the assailants would come here eventually. She sat, leisurely, on one of the barrels, and waited. When the pirates descended, she was still sitting there. With a casual smile and tone, she said:
''All yours, gentlemen. If you'll let me on your ship, that is.''
The captain, by some miracle, decided not to kill the gorgeous, bold girl. She was brought onto the ship and made a part of the crew. Years passed, during which she only kept in touch with her family through letters, sending them packages now and then. She had no desire to go back home; as time went by she became more and more attached to the life of a pirate, of an outlaw.
At first, she was nothing more than a servant, preparing meals, cleaning the ship, etc, with the other ''lowly crew members''. She had a bad habit of making bets with the pirates. Sometimes on dexterity, or speed, or wit. Or just with normal gambling games. She always won and started filling her pockets. Complaints reached the captain, who - while he'd ignored her until then - started noticing her.
He challenged her to a bet of his own. If she won, she'd become a crew mate and wouldn't have to stay in the servants' ward. The bet was simple: whoever could hit bulls eye on a target, with the captain's pistol, won. Despite never having used a pistol, she agreed. The captain went first, and missed the center by a few inches.
She was handed the pistol, taking a small moment to feel its weight. Then, she tried aiming. She was already strong, so her arm only trembled slightly. She knew she couldn't beat him, but even so, she smirked widely. ''Stupid thing you did there, giving me your gun.''
She was pointing it at the captain, a wild glint in her eyes. Her expression was calm, composed; she was in command. The captain soon broke into a bemused grin. ''What in blazes is this girl doing with the slaves'?! She's more of a pirate than the lot of ya!''
He took her under his wing, after that, teaching her how to fight with a pistol, how to navigate, using maps or stars or whatever else...Fancying her beautiful figure, he taught her many other things. Although she hadn't been pure before, she loathed the man's ''extra'' affection. At least, being his favorite kept her safe from the other pirates, not that she couldn't defend herself if need be.
She did so well on the ship she became the second in command. Until she mutinied and became captain. The current captain was old, his time was finished and she lured the men to her side with her looks and her skills. She ditched him on shore, sparing his life like he'd once spared hers. She owed him more than her life, but she wasn't one to keep thing she no longer needed.
Now captain of the
Mirage
for four years, she has started making a name for herself. There are more notorious crews than hers, but she's getting there. She's taken on many names and has established outposts across the world. She's made a few allies, but considerably more enemies. Her fortune is every growing. She doesn't plan to stop, either. She's right where she wants to be, although she'll always want more out of her life.
She has a few ambitions besides living a life of indulging and debauchery. One of them is finding the Relic. Since the Navy of her country has been scouring the seas in search of it for years past, she's, of course, heard of it. It's the ultimate treasure she hopes to find in her travels. With it, she'll conquer water and land, because that's the least she deserves. She's also constantly recruiting, planning to build the largest - and strongest - crew in history.
Other than that, if she gets caught up in some current event, she will either go with the flow and take part in it or leave it.
OOC
RP Sample:
It was often said that only desperate people resorted to blind dates to find their special someone. She firmly disagreed with that statement. She believed it took a lot of guts to go on a blind date. Any situation could arise and it could turn out as a total flop; it took confidence to go through that. It also saved all the hassle – and time – of playing the field and searching for someone. 
Mind you, it's not like she had trouble finding someone in her daily life. She was in fact highly desired, although none of her prior relationships lasted long. That was her fault mostly; because of her reluctance to get attached. Still, she'd felt like doing this at least once, for the heck of it. She was feeling needy lately and the only men currently in her life were the regulars at the bar where she worked. They were not an option. Flirting on the job to promote purchase was recommended, but outside dating clients was off-limits.
She practically emptied her wardrobe full of her precious, dear clothes before finally deciding upon an outfit. Cute silk jacket, blouse, skirt, pale-coloured tights and boots. All brand names. It said 
I'm not too serious about this but I'm still interested.
She left her loft and hailed a cab. It was a sunny Saturday and noon, the set time of the meeting, was nearing. The cab dropped her off at a trendy café that had opened recently. She'd been meaning to try it sometime and that was the decided location for the date. She went in and made herself comfortable at one of the tables near the window. Curiously, she scoped the room. Now that she thought about, her date and she hadn't specified an item of clothing or something to help recognize each other. She smiled and rested her chin in the palm of her hands. 
Oh well, he'll show himself eventually~ 
Alias:
Tess